Trump Recovery, Services PMI, Stimulus Hopes – What's up in Markets on Monday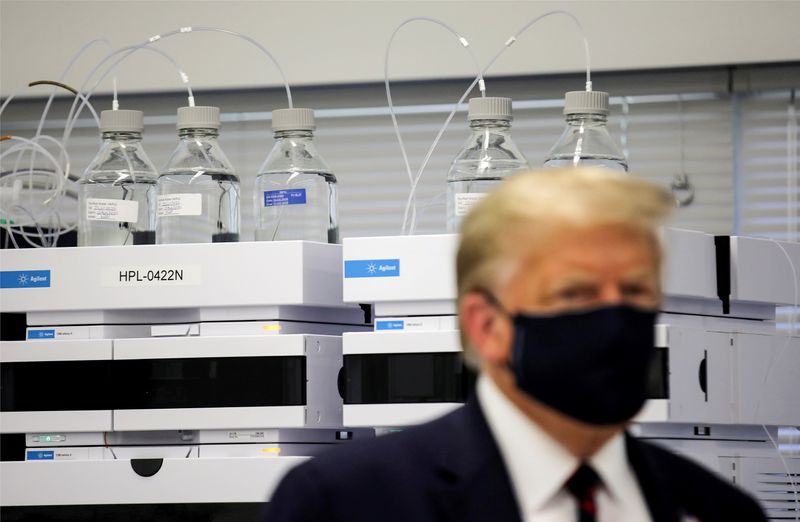 -President Trump could leave hospital as soon as later Monday, while his infection has given stimulus talks fresh impetus while the Covid-19 pandemic continues to batter the globe. Stocks are set to push higher, while oil prices are rebounding from a three-week low. The September ISM services PMI release is also due. Here's what you need to know in financial markets on Monday, October 5th.
1. Trump shows signs of recovery
President Donald Trump could leave the military hospital where he is being treated for Covid-19 as soon as Monday, according to his doctors on Sunday, suggesting he was making a quick recovery from the virus.
That said, there have been questions over the president being prescribed dexamethasone – a generic steroid typically used in grave cases – which could suggest that his case may be more severe than is being suggested.
President Trump has released a series of videos in an effort to reassure the public, and on Sunday took part in a motorcade to acknowledge his supporters who had gathered near the Walter Reed National Military Medical Center just outside Washington.
While a return to the White House would suggest that the election goes ahead as planned, President Trump faces a tough battle to be reelected. A Reuters/Ipsos poll released on Sunday showed him trailing Democrat Joe Biden by 10 percentage points with the election less than a month away.
2. Stocks bounce as stimulus confidence rises
U.S. stock futures pushed higher, rebounding after Friday's losses, as a lot of the political uncertainty stemming from President Trump's Covid news dissipated.
By 6:20 AM ET, Dow futures were up 135 points or 0.5%, while S&P 500 futures were up 0.5% and Nasdaq futures were 0.9% higher.
Helping the tone was increased confidence that a new stimulus package could be agreed on Capitol Hill.
House of Representatives Speaker Nancy Pelosi expressed optimism over the weekend that a bipartisan stimulus bill could be passed, suggesting Trump's infection "kind of changes the dynamic."
The president added to the pressure from his hospital bed, tweeting his wish for an agreement on a stimulus package, while the disappointing jobs report on Friday surely has focused minds.
Stocks likely to be in focus Monday include the tech giants that have surged during the pandemic, with the Wall Street Journal reporting that they could be particularly hard hit by tax changes in the wake of a Democratic election victory in November.
The tech-heavy Nasdaq Composite index bore the brunt of the selling on Friday following President Trump's Covid news. This index closed 2.2% lower, compared with the 1% loss on the broader S&P 500 index.
3. Coronavirus cases continue to surge
The number of Covid-19 cases now totals over 35 million world wide, according to data from Johns Hopkins University, with many countries in the world now suffering from a second wave of infections.
In the U.S., nine states have reported record increases in cases over the last seven days, mostly in the upper Midwest and West where chilly weather is forcing more activities indoors. New York City's mayor, Bill de Blasio, has also stated that he'll close businesses and schools from Wednesday in nine neighborhoods in Brooklyn and Queens where there's been a surge in coronavirus infections.
In Europe, Paris will shut all bars completely from Tuesday after a sustained period of high infection rates in France;  the Italian government will likely impose new restrictions in the coming weeks; while the U.K. reported a record number of cases on Sunday after a technical glitch meant that over 15,000 test results had not been transferred into computer systems on time.
4. U.S. services PMI set to show slowing expansion
The key U.S. economic release Monday will be the Institute of Supply Management Services PMI report, an indicator of the overall economic condition for the dominant non-manufacturing sector. This comes after the economy added only 661,000 new nonfarm jobs through the middle of September, less than half of what it created in the month through mid-August.
Analysts expect the ISM services PMI to come in at 56.3, still above the 50 level which separates expansion from contraction, but below the 56.9 level seen the previous month. The release is due at 10 AM ET (1400 GMT).
News from Europe was disappointing, with the euro zone's services PMI slumping to 48.0 from August's 50.5. The reimposition of some restrictions to halt a resurgence in the coronavirus sent the bloc's dominant service sector into reverse.
The U.K.'s services PMI dropped to 56.1 in September from August's five-year high of 58.8, a smaller decline than expected by the initial estimate of 55.1. Japan's services PMI came in at 46.9, contracting for the eight straight month in September but at the slowest pace since the coronavirus pandemic started.
5. Oil rebounds but increased supply weighs
Crude oil prices have recovered Monday, after falling to their lowest in nearly three weeks late last week, helped by renewed confidence surrounding the potential for a new stimulus package.
A lot of the focus surrounding the energy markets has been on the demand side, understandably given the ongoing impact of the Covid-19 pandemic. However, the supply side of the equation may soon start increasing in importance.
Libya has seen a near three-fold rise in its output, hitting 270,000 barrels per day last week, still some way off the more than one million barrels per day it was producing at the start of the year. Similarly, the latest data from Baker Hughes showed that the U.S. oil rig count increased by six to 189 over the last week, the highest count since June.
This could increase the pressure on OPEC and its allies to consider further supply cuts at their November meeting.
By 6:20 AM ET, U.S. crude futures were up 4% at $38.52 a barrel, while Brent futures were up 3.6% at $40.67 a barrel. Both benchmarks dropped over 4% on Friday.
(Source:Investing.com – Stock Market Quotes & Financial News)