European Stocks Lower; Covid Worries Overshadow PMI Data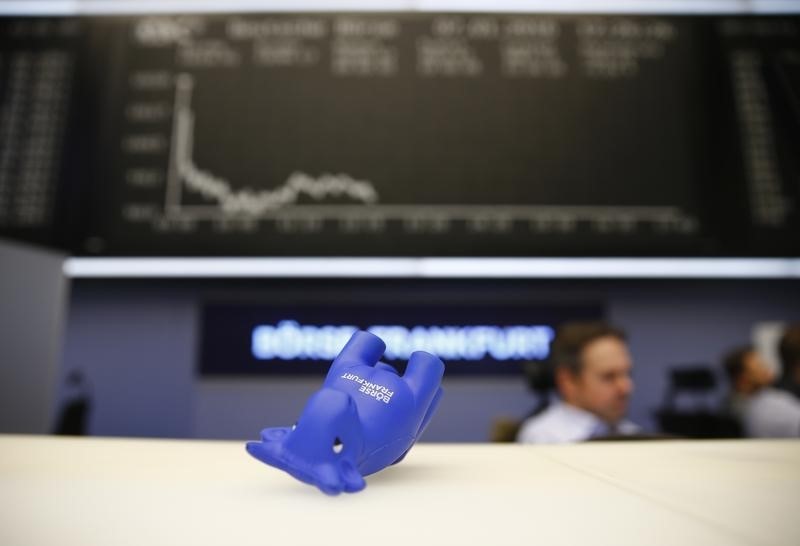 European stock markets traded lower Wednesday as doubts about the speed of recovery from the Covid-19 pandemic weighed on sentiment even after healthy business activity data.
At 5 AM ET (0900 GMT), the DAX in Germany traded 0.5% lower, the CAC 40 in France fell 0.4% and the U.K.'s FTSE index dropped 0.2%.
Europe is currently suffering from a third wave of the Covid-19 virus, with the Netherlands announcing late Tuesday that a nationwide curfew will be extended by three weeks until late April – joining the likes of Germany, France and Italy which have already tightened restrictive measures.
Part of the problem has been the relatively slow rollout of vaccines within the region, something that has prompted a spat between Britain and the European Union over the distribution of the drugs.
The European Union is set to extend Covid-19 vaccine export curbs to Britain and other areas with much higher vaccination rates, and to cover instances of companies backloading contracted supplies, EU officials said Wednesday.
Adding to the worries, confidence in the safety of AstraZeneca's (NASDAQ:AZN) vaccine took another hit Tuesday after a U.S. health agency said its trial may have included outdated information.
On a brighter note, German factory activity rose to a record high in March and the services sector expanded after five successive months of contractions, with the country's preliminary composite PMI rising to a 37-month high of 56.8 from 51.1 the previous month.
This suggests Europe's largest economy was shrugging off pandemic lockdowns, although the surveys were conducted before the latest restrictions.
French data also showed strong growth, although its composite PMI release climbed to 49.5 from 47.0, still in contraction territory.
Inflation data from the U.K. had earlier undershot, with February's CPI release climbing by just 0.4% on the year, versus the expected 0.8%, and by 0.1% on the month, versus 0.5% expected.
In the corporate sector, Carrefour (PA:CARR) stock rose 0.4% after the French retail giant announced plans to buy Brazilian food retailer Grupo BIG for around 1.1 billion euros ($1.3 billion).
Bellway (LON:BWY) stock fell 1.9% after the U.K.-based house builder put aside another 20 million pounds ($27 million) to cover recladding and other remediation works on its buildings, in the wake of the Grenfell Tower disaster.
Oil prices pushed higher Wednesday, steadying after the sharp losses of the previous session, but worries about a slow recovery to demand remain given the fresh lockdowns in Europe and a build in U.S. inventories limited gains.
U.S. crude stocks jumped by 2.9 million barrels last week, according to data from industry group the American Petroleum Institute. Official data from the Energy Information Administration are due later in the session.
U.S. crude futures traded 2.2% higher at $59.04 a barrel, while the Brent contract rose 2.2% to $62.15. Both benchmarks have still fallen nearly 15% from their recent highs earlier this month.
Elsewhere, gold futures rose 0.3% to $1,730.15/oz, while EUR/USD traded 0.2% lower at 1.1828.
(Source:Investing.com – Stock Market Quotes & Financial News)